While it may be an educational institution, LUMS has been known to hold rather grand and highly enjoyable events. Be it sports, a drama fest or a concert, the university has always managed to keep its standard high… beyond the realms of academia too. In keeping with this tradition of impeccable event management skills and talent, one expected the LUMS Music Society's 10th Anniversary Concert featuring the Aunty Disco Project, Noori, EP and Laal - bands who have roots at the university - be a reunion of epic musical proportions. All these bands garner great popularity and a huge fan base, and the reunion night was expected to be an unforgettable sight to behold. Unfortunately for all those involved, the night did manage to create memories, but not those that one would cherish but instead that would gladly make one want to perish…
To begin with, the concert began an excruciating three hours late - uncharacteristic of any LUMS event - and one bore witness to the lapse. Although the stage and lighting were highly impressive, the staggering delay seemed to lay them to waste. A huge crowd had thronged around the entrance to the concert area, swarming in some semblance of a queue, while many others just floated around on the campus, squatting on the lawns, some enjoying a last smoke, before the organisers confiscated their beloved boxes at the gate. The musicians sat behind the stage, patiently bearing each others extensive sound checks, trying to pass the time in much the same manner as the audiences outside.
Many, like Farhad Humayun of Overload, decided instead to make use of the only food and drink stall set up inside the concert area, preparing himself for the long night (and wait) ahead. By 10 pm the organisers finally let in a few people, and they began seating themselves in distinct disciplined rows. Such behaviour can only be witnessed at institutions like LUMS where stringent rules manage to extort the best civility buried deep within the recesses of the Pakistani soul. No pushing, no shoving and certainly no harassing or public displays of affections.
Finally the show began, after many ear piercing sound checks, in the most dull unceremonious way possible with a long litany of paltry songs and insipid compeering. There was no coherence in the song selection: from an anemic and highly tedious 'Billo De Ghar' (Abrar would be kicking himself had he heard this) to relatively bearable covers of rock songs, the concert lacked the right kind of flow and attitude that one expects from a grand show like this was intended to be.
To one's horror, many singers were annoyingly out of tune. This is not the impression that a Music Society wants to make when mapping out its achievements. This night should have shaken up every audience member from their vapid reverie and jolted them into attention. It should have made everyone exclaim 'Damn! This is LUMS! And this is what they're capable of!'
The saving grace however, and the only performance that deserved its time on stage, was an excellent rendition of an extremely difficult Pink Floyd song: 'Shine On You Crazy Diamond' by the alumni: Ammar Rashid, Zain Moulvi, Saadi and Shibli Mansuri. Musical aficionados from the university present that day can testify to the musical prowess of these young men, their command on their instruments and the brilliant lighting effects of a diamond illuminating through its facets set the stage ablaze and made for a truly master class performance. These are future stars one should watch out for. This was the performance that magically transformed the languid atmosphere to a stirring one. And the night finally truly began.
[img]
[/img]
In a natural progression from this electrifying performance, were Aunty Disco Project whose 'Teenage Wasteland' (The Who cover) and 'Sultanat' compelled the crowd to sing and sway in unison. The audience stood up, shouted out, laughed… when the crowd gets that excited, they are truly feeling the music. The night had only begun, past midnight, and everyone was set for a highly enjoyable time when dramatically out of the blue, a dishelved and shaken Music Society President, Shams Zaheer, stepped on stage requesting that the concert must end immediately as per the wishes of a certain faculty member. If not, the professor had 'threatened' to cut off the power supply.
No other explanation was given; just these two sentences.
For a moment everyone present thought this was a ridiculous cruel joke. A vehement and forlorn plea reiterated by Shams, left jaws hanging in disbelief. The crowd was stunned. The celebrities were appalled and frozen in incredulity, as they all walked away murmuring obscenities, debating causes and possibilities, quizzically pondering over 'why?', while the rest prepared themselves for a huge media circus.
That night many students unionized outside the concert area to demand reimbursement, but the forlorn and torn expressions on the Music Society members led them to instead cheer for them in realization of the sheer hard work and subsequent heartbreak and courage that they displayed.
Ahmed Ali Butt from EP stressed "the need for professionalism. Every institute has its own policy and the organisers should have worked extra on time scheduling." Ali Hamza, though, an alumni and a celeb, was irate. He thundered down: "This is typical of the LUMS Admin. Whenever it comes to the Music Society they have always been unsupportive. I've been seeing this for the past so many years." What is commendable though was that, while all celebs left after this drama, Hamza stayed back to offer a shoulder to his fellow society members.
Many students echoed Hamza's feelings and an intense tennis of blogging ensued that night and the next day condemning the faculty and the administration, claiming that the professor was being 'irrational' and the administration 'incompetent'. The society members claimed to have taken permission for crossing the time barrier. Apparently the previous night's thunderstorm blew away the stage, re-erecting it the next day took time and lead to subsequent delays.
As a witness to the students, celebs and the society members reactions, and after a closer inspection of the circumstances, one comes to a highly disappointing and disturbing conclusion.
The fact that LUMS is a university and must have stringent regulations to moderate its student body, is laudable. All events held in the university premises must adhere to some semblance of time and order and it is commendable that punctuality, a rare trait in our country, is enforced with vigour. However the complete and utter disregard shown by the professor and the faculty at large, who has not yet even responded to this situation either through email or to addressing the student body in an open forum, is rather telling of how liberal the country's premier education institution really is.
[img]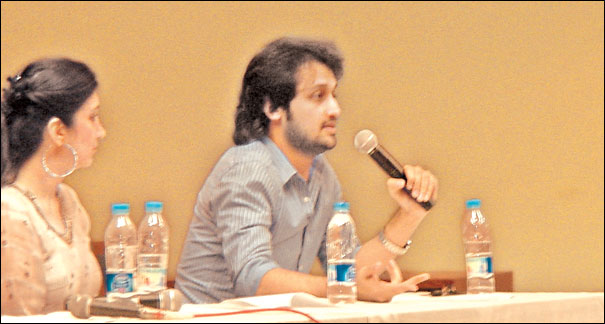 [/img]
Shams Zaheer, the current President of the Music Society, he very told Instep that: "This is reflective of how our society views musical expressions and the country's premier institution's reaction to its society's ten years worth of effort in music. In an economic analysis, the comfort of one faculty member preceded the efforts of months of hundreds of students. There was no consideration to even listen to our side of the story." One could easily sense the profound hurt and disbelief through his calm demeanor; disappointment was etched on his face.
"This was mega event that was culminating and connecting ten years of the LUMS Music Society through time and through different batches, and its achievements and this is how it goes down in history."
One cannot help but feel appalled at the way this event has transpired. The Pakistani music industry is one of the very few things we have to feel proud about. It is an industry that has fought long and hard for its establishment. Music is an art form that has struggled to gain respect and acceptability through the years and when one sees a university becoming independently capable of establishing their own recording studio (like the Music Society of LUMS has), one feels that the music industry has seriously made headway. Ruthlessly choking off a concert that commemorates a student society's ten year efforts in the direction and its ability to generate stars like Amir Alvi (Munchkins), Ali Hamza (Noori), Salar Farooqi (Sahil), Omar Khalid (Aunty Disco Project), Sharam Azhar and Taimur Rahman (Laal), seems like an attempt to choke a process that has so commendably begun at LUMS.
The fact that the society went over board with the time should not be excused, but the correct way of handling the situation was to let the concert proceed and call the society in the next day to bear the ramifications. Creating a spectacle by pulling off the plugs did irreparable harm to the university's image, tarnished the Music Society's reputation amongst their musical gurus and worse, possibly damaged the university's credibility with sponsors in the future. Zong had sponsored the event and it is a big thing for a music society to rope in a major telecommunications giant as a sponsor. A business school like LUMS should know that not honouring sponsors is lethal for future sponsorships. After looking at what happened at the LUMS concert, Zong and indeed other corporations may decide that sponsoring student college concerts is too unreliable and balk from doing so in the future.
Musicians too need an attitude check for demanding to be paid in lieu of these circumstances. To further add salt to the students' wounds, when the Music Society asked the stars if they would be willing to do a concert at a later date for the fans, they couldn't get over their star egos to respond effectively but remained non committal. Such an attitude is quite appalling. It reveals, that as much as musicians harp about being in the industry for the love of music, their primary motive is money. This was their grand opportunity to side with the Music Society and lend their full support but they did not rise to the occasion.
Moreover and most disappointingly, this is just symptomatic of the general myopia and conservatism that exists in our society at large. There has never been a genuine acceptance of creativity and artistes continue to fight for their freedom of expression in all creative fields. And if our urban elite respond to creativity in this sullen way, then change will take a long time coming. It is not only the Taliban that we need to fight, it is also our own mindset.