From bizarrely OTT fashion choices… Atif Aslam and Gohar Mumtaz are all about suits now
Gohar Mumtaz and Atif Aslam may have more in common than the fact that they both share a chequered musical history (remember the very, very public fall-out they had after their claim to fame 'Aadat' released?). While Atif has recently been seen wearing classic black suits designed by brother/manager Shahbaz Aslam - marking a much-welcome change from the rather offbeat concoctions Shahbaz has designed in the past - it seems that his sartorial choices may have rubbed off on former band-mate Gohar.
At the recently held MTV Music Awards, Gohar surprised all and sundry by also donning a black suit - perhaps to make up for the fashion disaster he and the rest of Jal looked like at the Lux Style Awards last year… while Atif for some bizarre reason was dressed as a police officer from a country we can't place.
Even though Atif and Gohar may still be a little too young to adopt the corporate uniform, it is definitely far more preferable to see them in suits as opposed to the eyesores they can often be. While musicians should definitely only wear whatever they think they feel comfortable in - Atif, and now Gohar's choice of suits come after years of being veritable culprits waiting to be caught by the fashion police. In any case, as Barney Stinson (played by Neil Patrick Harris) on the popular TV show How I Met Your Mother would say: 'Suit up!'
– Saba Imtiaz
– Gohar Mumtaz photo by Kohi Marri
– Atif Aslam photo by Maram & Abroo team
– LSA 2008 photos by Faisal Farooqui
[img]
[/img]
[img]
[/img]
[img]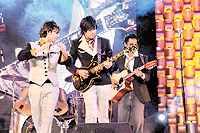 [/img]